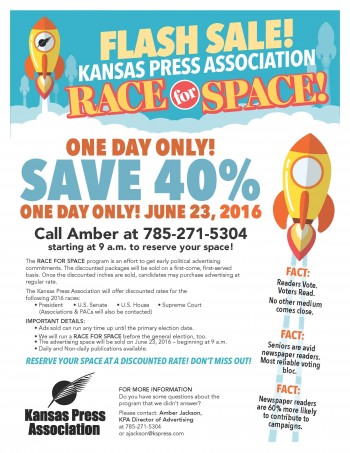 The RACE FOR SPACE program is an effort to get early political advertising commitments. The discounted packages will be sold on a first-come, first-served basis.
Many daily and weekly newspapers are ready for your ads!

The Kansas Press Association will offer discounted rates for the following 2016 races:
• President • U.S. Senate • U.S. House • Supreme Court
(Associations & PACs will also be contacted)

IMPORTANT DETAILS:
• Ads sold can run any time up until the primary election date.
• We will run a RACE FOR SPACE before the general election, too.
• The advertising space will be sold on June 23, 2016 – beginning at 9 a.m.
• Daily and Non-daily publications available.
---