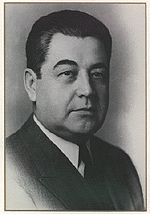 Roy Bailey was born in Emporia on May 8, 1883. After graduating from high school in 1901, he was hired by William Allen White at the Emporia Gazette. For $5 a week, he served as a reporter, ad man, collector, and proof reader.
In 1905, Bailey went to work as city editor of the Parsons Sun. He quit the business briefly to operate a music store, but returned in 1910 to take over the Salina Journal at the insistence of White and Henry Allen.
When Bailey took over, the Journal had a circulation of 2070 - and most of that was un-paid as many papers were given away. By the time he left in 1949, according to Bailey, the Journal had the largest circulation in proportion to population of any paper of its size in the United States, and probably the world.
Bailey died in May, 1971, at age 88. He wrote his own "obituary" a few years before his death, a fascinating personal view of a portion of Kansas history.
---