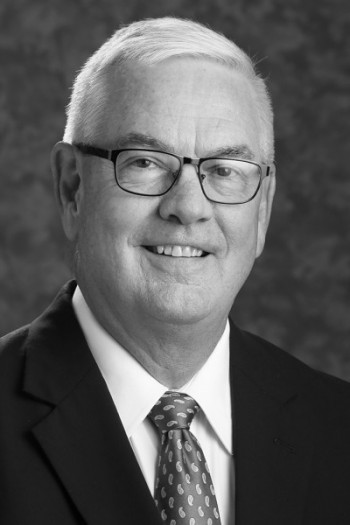 While Doug Anstaett's professional newspaper career spanned almost five decades, his interest in journalism actually began in the late-1950s when he began proofreading his local newspaper, The People's Herald.
He couldn't wait for the Herald to arrive each week because it provided a treasure trove of misspelled words for the Lyndon, Kan. youngster to discover, piquing his interest in news and newspapers.
In 1963, the future journalist became obsessed with newspaper reading following the assassination of President John F. Kennedy. His mother noticed this curious interest, and she bought him the official summary of the Warren Report on the assassination when it was published the following year.
He began his professional newspaper career following his graduation from Kansas State University with a bachelor's degree in journalism and mass communications in May 1973.
When he was nearing graduation at K-State, he interviewed for a job with Ken Bronson, then publisher of The Pittsburg Headlight-Sun and later a vice president of Stauffer Communications, Inc. After that interview, he continued to pester Bronson for weeks and it eventually paid off when he began work as a reporter in Pittsburg in June 1973, just a week after his marriage to the former Lucinda Mickelson.
A year later, he was promoted to a reporting position for the Topeka Daily Capital and Topeka State Journal.
After reporting for the Topeka newspapers, he left in 1977 to serve as editor of another Stauffer newspaper in Nevada, Mo., The Daily Mail, and then in the spring of 1979 was tabbed by Bronson as one of the first two journalists named to the Stauffer management training program. He trained under Grand Island (Neb.) Daily Independent publisher David Beliles.
He has considered Ken Bronson and David Beliles as his most significant newspaper mentors.
After helping lead an award-winning effort to cover the aftermath of the tornadoes that devastated Grand Island on June 3, 1980, he was named editor and general manager of the Brookings (S.D.) Register, where he served from late 1981 until 1987.
In August 1987 he returned to his home state of Kansas as editor and publisher of The Newton Kansan, also a Stauffer newspaper at the time. He served there until 2003.
He embraced the unique role of a community newspaper publisher and was fully committed to the credo enunciated by Oscar Stauffer: "Count that day lost when you haven't done something to benefit the community you serve."
He believed such community service required a strong editorial page. Anstaett received numerous editorial writing awards, garnering four first place awards in the 10,000 and under circulation category of the William Allen White Editorial Excellence competition sponsored by the Inland Newspaper Association in 1987, 1992, 1999 and 2002, the last three while he was publisher of the Newton Kansan. In 1992, he also won the sweepstakes award, a citation presented to the newspaper judged best that year among all Inland member newspapers in editorial writing.
After going almost full circle and returning to the Topeka Capital-Journal as editorial page editor in 2003, he was chosen to lead the Kansas Press Association as executive director, where he served from January 2004 until August of 2018. He continued to serve as a consultant and lobbyist for the association for a few years.
In 2015, he was named "Leader of the Year" in community journalism by the Huck Boyd Center for Community Media at K-State.
He is a past president of the Newspaper Association Managers, a national organization of press association executives from the United States and Canada; past chairman of the A.Q. Miller School of Journalism Advisory Committee at K-State, a KSU Foundation emeritus trustee, a member of the Kansas Coalition for Open Government Board of Directors, a former trustee of the William Allen White Foundation and a member of the Topeka South Rotary Club and the Fortnightly Club, a literary interest group. He served on the Kansas Client Protection Fund board and is a former KSU Alumni Association board member, past president of the Kansas Press Association, past president of the Newton Rotary Club and was a member of the 1988 Leadership Kansas class.
From 1987 to 2003, he served as editor and publisher of The Newton Kansan in south-central Kansas, where he and Lucinda raised their two daughters.
After he joined KPA and his grandchildren were born, he began writing letters to them similar to the personal columns he had written as an editor and publisher. He is compiling them along with photographs into books for keepsakes.
He and Lucinda have two daughters, Beth Anstaett Iversen and husband, Russell, and Ashley Anstaett All and husband, Matt, all of Lawrence, and seven grandchildren, Olivia and Sebastian Iversen and Helena, Thomas, Penelope, Silvia and Georgia All.
The Anstaetts established an endowed scholarship fund in the Kansas Newspaper Foundation in 2010, which annually awards journalism scholarships to students at K-State.
In 2011, they bought a 71-acre farm south of Lyndon and have spent years clearing brush and returning it to native prairie.
---