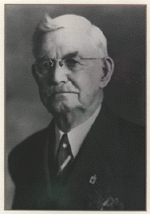 Gomer T. Davies, publisher of the Concordia Kansan, was born January 25, 1855, and came to America from south Wales in 1863. From 1869 to 1882 he worked in the Iowa coal fields, where he lost his left leg in a mine railroad accident.
In 1883, he made his first venture into the newspaper business by purchasing the Republic City News. He moved to Concordia and purchased the Kansan in 1886.
Despite failing health, Davies continued to write editorials for the paper until his death on October 15, 1950. At age 95, he was the oldest editor in Kansas.
---