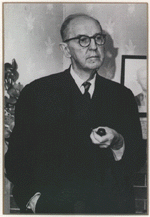 Leon Flint served as chairman of the Department of Journalism at the University of Kansas from 1916 to 1941.
During his quarter-century tenure at KU, Flint, an 1897 graduate of the university, established a national reputation as an author of journalism textbooks and as a leader in journalism educator associations.
He founded Kansas Editors" Day, and in 1931 originated the Kansas Newspaper Hall of Fame.
Flint was known affectionately as 'daddy" by the hundreds of students who graduated during his years as journalism chairman. In 1941, William Allen White was the principal speaker at a banquet honoring him upon his retirement from that position.
Flint continued to teach at the University until 1947. Three months before his death in September, 1955, the Board of Regents named the new School of Journalism building Flint Hall in his honor.
---