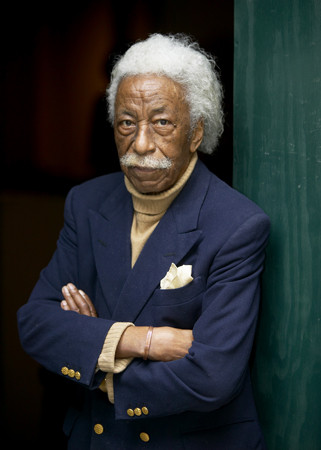 GORDON PARKS was born and raised in Fort Scott, Kansas, on November 30, 1912, to Sarah and Andrew Jackson Parks. The youngest of 15 children, he attended local schools and left Fort Scott at sixteen after his mother died.
He bought his first camera at a pawnshop and found that he had talent as a photographer. He chose his camera as his weapon against all the things he disliked in America-racism, poverty and discrimination. He moved to Chicago in 1940, where he began a portrait business and specialized in photographs of society women. After receiving the first fellowship in photography from the Julius Rosenwald Foundation in 1941, Gordon chose to work with Roy Stryker at the Farm Security Administration in Washington, D.C. This was a government agency established to call attention to the plight of the needy during the depression. It was at the FSA that Gordon took his first professional photograph, "American Gothic."
This memorable photograph of charwoman Ella Watson standing before the American flag holding a mop and broom became his signature image. His talents also led him to filmmaking, writing, music and poetry. He was the first African-American to direct a film for a major studio, Warner Brothers. Based on his biographical novel, The Learning Tree, Parks penned the screenplay and composed the musical score, along with producing and directing the film. That, his first full length film, was shot in Fort Scott, and is based on his childhood there. More films were to follow, including Shaft and Leadbelly.
 Also to his credit is a piano concerto, a symphony for orchestra, a ballet honoring Martin Luther King and twenty-three books. He received the National Medal of Arts from President Reagan in 1988.
He received over 50 honorary doctorates in his lifetime--a testament to living a life of overcoming barriers and achieving outstanding success both artistically and professionally. Parks died on March 7, 2006, and is buried in Fort Scott's Evergreen Cemetery. Through collected works, displays, and exhibits at the Gordon Parks Museum in Fort Scott, the creative spirit of Gordon Parks continues to inspire generations to come.
---