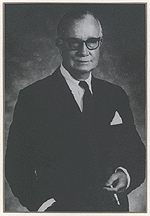 John P. Harris was born August 26, 1901 in Ottawa, the son of the publisher of the Ottawa Herald. He learned the business at a young age, and when his father purchased the Chanute Tribune several years later, 26-year-old Harris was appointed editor and publisher.
In 1933, the Harris Group purchased the Hutchinson News, with Harris serving as editor and publisher until 1962, when he became board chairman. In 1965, largely through his efforts, the News won the Pulitzer Prize for Meritorious Public Service.
The 1963 winner of the annual University of Minnesota Award for distinguished service in journalism, Harris was one of 22 University of Chicago alumni chosen for distinguished honors by fellow alumni in 1964.
He served three years on the Rhodes Scholarship selection committee and was president of the Inland Daily Press Association.
Harris was a member of the advisory board of the American Press Institute at Columbia University and a director of the William Allen White Foundation at KU.
He died in April, 1969, at age 67.
---