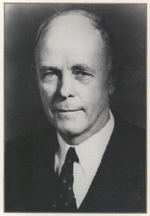 Fay Seaton was born in Champaign County, Illinois, and came to Kansas with his parents in a covered wagon. He attended Northwestern University and the University of Minnesota, where he graduated with Phi Beta Kappa honors.
Seaton purchased the Manhattan Mercury while serving as secretary to U.S. Senator Joseph Bristow. Later he purchased the Manhattan Chronicle and consolidated the papers.
During his 37 years of newspaper publishing, Seaton developed the Seaton publishing organization, which continues today. At the time of his death, the organization's holdings included papers in Kansas, Nebraska, South Dakota, Wyoming, and Colorado, as well as several radio stations.
"Fay Seaton had a twinkle in his eye," a contemporary wrote shortly after Seaton's death in December 1952. "It denoted kindly humor, a tolerant and calm attitude toward life in general and a confident grasp of the fundamental things."
---