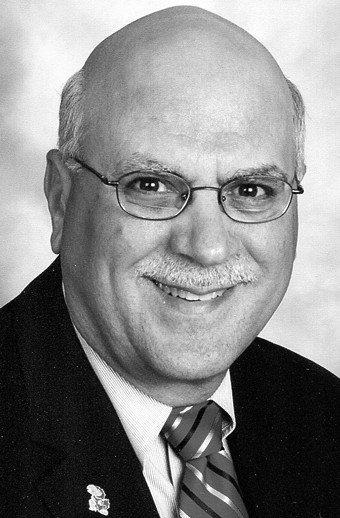 Tom A. Throne was born on Dec. 22, 1949, in Washington, D.C.
An Army brat, he traveled across the country and to Germany as a child. His mother, Marcella, was from Newton, Kan., and his dad, Al, was a graduate of the University of Kansas School of Medicine, so Tom always wanted to attend KU and become a Kansan.
After his graduation in 1972 with a degree in photojournalism from KU, he took his first job as a photographer at the Junction City Daily Union. He met his wife, Pam, through friends and they were married on June 9, 1973. He rose through the ranks at the Daily Union, eventually becoming its managing editor.
He then became the managing editor of the Maryville, Mo., Daily Forum in December 1980. During his time there, he and his staff covered the murder of Ken Rex McElroy, the town bully who was murdered in broad daylight in Skidmore, Mo.
In May of 1983, Tom became the managing editor of the McPherson Sentinel. He was promoted to general manager in 1988 and later the publisher. He served as a district manager for Carter Zerbe, who was a Hall of Fame inductee in 2015, supervising papers in Colorado.
He was promoted to publisher of the Leavenworth Times in November 1996, where he remained until 2005, when he moved back to Junction City as the general manager of The Daily Union.
In 2010, he and his wife decided to move to Bentonville, Ark., to be closer to their daughter, Sara, and grandson, Cole. From 2011 to 2015, he was the managing editor of the Bella Vista Weekly Vista. He retired in January 2016.
Tom believed that it was important to be active in community activities and organizations.
Tom was also a strong supporter of the Kansas Press Association, where he served as president in 2004-05. He was also a vice president and treasurer as well as serving as legislative and daily directors. He was the 1988 recipient of the Boyd Community Service Award.
He was active in the chambers of commerce in McPherson, Leavenworth and Junction City, serving as president of the Leavenworth Chamber in 2004.
For more than 25 years, he was involved with the Kansas Honors Program sponsored by the University of Kansas Alumni Association. In 2010, he received the Mildred Clodfelter Alumni Award for his work with the program.
Active in the Main Street programs in McPherson and Leavenworth, he was honored with the 2003 Award for Excellence Downtown Supporter from the Kansas Main Street program for his work in Leavenworth.
He was active with the American Red Cross, the Salvation Army and Rotary Clubs in Leavenworth, Junction City and the Rogers and Bella Vista clubs in Arkansas.
Gary Mehl, who succeeded Tom as the publisher in McPherson Sentinel, wrote, "Tom was also a great ally and supporter for the McPherson community. He was involved in all phases of community promotion and absolutely believed that as the community grew, so grew his newspaper. He was tireless in his efforts to lend his expertise to any organization that needed his competent opinion or leadership. Much of what McPherson is today is because of what Tom did when he was publisher at The Sentinel."
Tom was also a great advocate for his employees. Kathy Hackleman, his managing editor in McPherson, said after her promotion – "That's when I learned most of what I know about leading a newsroom. Even though he was often busy with other duties, he was always available when I had questions or just needed a boost after an especially difficult day, person or mistake."
---