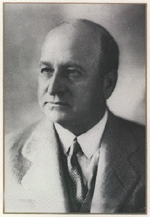 Henry J. Allen, journalist, governor and U.S. senator, was a political leader in state and national affairs for 50 years.
Born in Pennsylvania, Allen came to Kansas with his parents at age 5. He attended Baker University at Baldwin but left school in 1891 to become a cub reporter on the Salina Republican. In 1907, he purchased the Wichita Beacon.
Allen secured the Republican party's nomination for governor in 1918 and went on to serve two terms in office, from 1919 to 1922.
Appointed to fill the U.S. senatorial seat vacated by Charles Curtis in 1928, he ran for his own term in 1932 but was narrowly defeated.
In 1935, Allen made his return to the newspaper business by purchasing an interest in the Topeka State Journal. He died in 1949 at age 81.
---