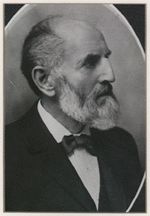 Col. Daniel Read Anthony is perhaps the most colorful character in the history of Kansas journalism. He killed a rival publisher in a street duel, caned a U.S. Senator, and himself was shot, spat upon, beaten up with an umbrella, and horsewhipped twice while in his sixties.
The brother of suffragette Susan B., Anthony led a Free State party to Kansas in 1856. On January 26, 1861, the day before Kansas was admitted as a state to the Union, he founded the Leavenworth Daily Conservative.
He eventually sold that paper and purchased the Leavenworth Times, which he operated until his death November 12, 1904, at age 80.
Once appointed provost marshal of Kansas City, the Colonel was removed from command after freeing 100 slaves and threatening to court-marshal any officer who sent a slave back to his master.
The "old warrior" attacked his opponents relentlessly in print, and often paid the price. In 1887, Leavenworth residents paid by a 'nickel subscription' the $100 fine of a man charged with horsewhipping the 63-year-old Anthony.
Four years later, the town mayor was fined $30 for whipping the publisher, who had sabotaged his re-election campaign. Both men were searched for firearms prior to the hearing.
---