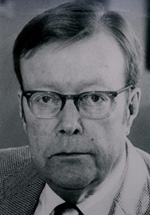 Whitley Austin began his career with William Allen White and the Emporia Gazette following his graduation from the University of Wisconsin. He then moved on to the Hutchinson News before being named editor of the Salina Journal in 1949. He added the title of publisher five years later, and remained in that capacity until his retirement in 1975.
Austin was active with the Kansas State Historical Society, the Kansas Board of Regents, the William Allen White Board of Trustees, the Kansas-Missouri Associated Press, and the American Society of Newsaper Editors. He twice served as a Pulitzer Prize juror.
Following Austin's death in 1995, the Wichita Eagle wrote, "If Hollywood ever made an accurate movie about journalism, it would base its lead character on Whit Austin. Gruff, demanding, cigar firmly in place."
---