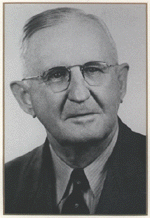 Will Beck was born in Holton on February 14, 1873. His father M.M. founded the Holton Recorder two years later. Beck went to work as a printer's devil at age 10, and would work on the Recorder in some capacity until his death eight decades later.
Beck graduated from Campbell College in Holton and attended the University of Michigan. Active in the state Republican party, he was a delegate to three national conventions.
He served as president of the Kansas Editorial Association in 1927, and in 1955 received the William Allen White Foundation Award for Journalistic Merit.
Beck recalled that he and his father, who ran the paper with Beck until 1931, quarreled over policy only once, that being when the younger Beck wrote an editorial supporting the League of Nations. After that both men signed their editorials in the Recorder.
Beck sold the Recorder in 1950, but continued to write his column, "scrambled Town Topics Dished Up," until a few weeks before his death in November, 1967, at age 94.
---