There can be no discussion of the High Plains Journal without talking about its founding publisher of 44 years, Joe Berkely.
Berkely, born in 1919 in Chicago, was the son of a doctor. As a teen, Berkely traveled to France with his mother while his sister took ballet lessons, and he became fluent in the French language.
As a pre-med graduate of Valparaiso University in Indiana, Berkely had taken flight lessons while in college. When World War II was declared, he was among the first men drafted into military flight training.
Shipped to Texas to learn to fly B-26 Marauder bombers, Berkely's fluency in French proved useful in helping the Army Air Corps and led him to being stationed at the former Dodge City Army Air Base to train Free French resistance pilots.
While stationed in Dodge City, he met Nancy Peterson, a student at the University of Kansas. She was the daughter of the business manager of the local daily newspaper, The Dodge City Daily Globe.
They did not immediately hit it off, however. Nancy thought Joe was a "hot rod pilot" and he thought she was a little "stuck-up." They dated anyway and eventually fell in love and were engaged. They married in 1944.
Following the war, Berkely joined with a local printer, Herb Etrick, in purchasing the struggling local weekly, The Dodge City Journal. In 1949, the paper was rechristened High Plains Journal, with an emphasis on agriculture.
Berkely sold a 51 percent interest in the Journal to Wichita printing company McCormick Armstrong in 1959.
HPJ has had a long relationship with the Kansas Association of Wheat Growers. Berkely believed wheat growers needed help in getting their message heard before the Kansas Legislature and the U.S. Congress. So, for a time, HPJ housed the offices of KAWG, the National Association of Wheat Growers, the Kansas Wheat Commission and Great Plains Wheat, a forerunner of U.S. Wheat Associates.
As part of that messaging strategy, KWC came into being, using a checkoff system to help pay for farmers' marketing efforts.
"They began to collect good money and they were looking for an ad agency," Berkely said in a 2012 oral history. "There were a number of agencies that had made a presentation to them, trying to sell them on being the ad agency, and one was McCormick Armstrong Advertising Agency in Wichita."
When the KWC members looked at the bill each agency want­ed, they were shocked. HPJ Editor Ray Pierce stepped in and said he would do the job for whatever the hourly cost was.
"(KWC was) worried about buying a box of paper clips at that time, much less spending real money. When it was all said and done, they decided after listening to all proposals from the three agencies that they would rather go with us," Berkely said.
Two astonished partners in McCormick-Armstrong traveled to HPJ's offices in Dodge City to find out why their big city company had lost the account to this rural upstart. One thing led to another and McCormick-Armstrong Co. decided to make an offer to buy High Plains Journal.
In the ensuing years, Berkely, along with McCormick-Armstrong chairman Pete Armstrong, took HPJ to being the most read publication among farmers and ranchers in an 10-state area.
Joe took care of newspaper employees, paying everyone equally for their work regardless of gender.  To this day the longevity of staff service is one of the strengths that have carried the business through difficult economic times.
Berkely divested himself of all but a small part of the rest of his interest in HPJ to McCormick-Armstrong upon his retirement in 1993.
Joe died Sept. 9, 2016. He and his wife, Nancy, who died in 2012, were married 69 years. They had one daughter, Nan Berkely Griffin and husband, Bob, Myakka City, Fla.; a grandson, Kyle Griffin and his wife, Anne, and two great-grandchildren, Kate and Hailey Griffin, all of Trumbull, Conn.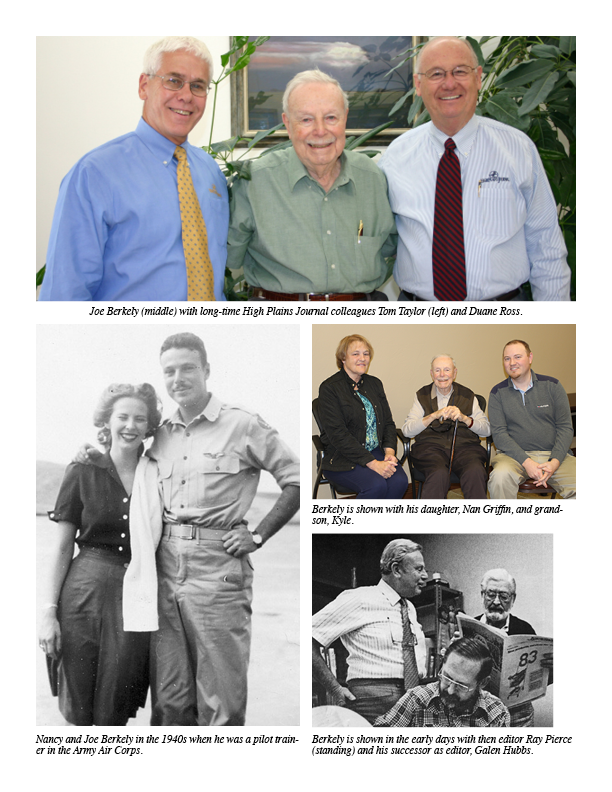 ---