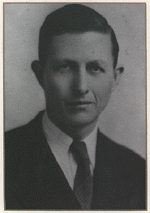 Frank Boyd, Jr., was born July 9, 1912, in Phillipsburg, the son of Phillips County Post publishers Frank and Mamie Boyd and brother of McDill 'Huck' Boyd.
He graduated in 1934 from Kansas State University, where he was captain of the K-State basketball team. Upon graduation he was offered a professional baseball contract, which he turned down.
Two years later Boyd became coach and principal of Mankato high school. In 1939 he joined the family partnership and became editor of the Jewell County Record. This partnership lasted for 38 years, and included publication of the Record, the Review, the Jewell County Republican, and the Osborne County Farmer.
During World War II, Boyd served in the Navy, completing his tour of duty as a lieutenant-commander. He was president of the Kansas State University Alumni Association and the Kansas Sports Hall of Fame, and was a member of the Board of Directors of the William Allen White Foundation and the K-State Endowment Association.
Boyd died in July, 1972.
---