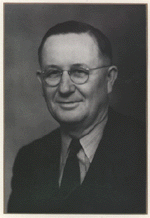 Frank Boyd, who headlined one of the best known publishing families in Kansas, began 54 years of newspaper work by laboring in the Kensington shop during high school.
He worked his way through Kansas State University, and in 1903 entered the newspaper business with the Phillips County Post. With the exception of a brief period in 1922, he published a newspaper in Phillipsburg until his death in 1947 at age 69.
In 1905, Boyd married Mamie Alexander. She joined him in his newspaper work and continued as his active partner. After his death, she remained in the business with their two sons, Frank, Jr., and McDill, in the publishing of the Phillips County Review and the Jewell County Record.
Boyd was president of the Kansas Editorial Association, and for 14 years was mayor of Phillipsburg. He was chairman of the State Board of Administration from 1939 to 1943.
---