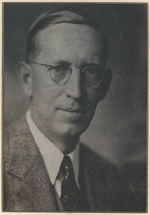 When Ernie Briles graduated from Campbell College in Holton, he was still unsure of what he wanted to do with his future. After spending two years with the Bureau of Education in the Phillipines, he returned home with the ambition of becoming a newspaper man.
As he stated later, however, "My ignorance about entering the newspaper business was abysmal." After being turned down by the Kansas City Star and both Topeka papers, Briles bought the Stafford County Republican in 1915.
He soon found himself in serious competition with the Staff-ord Courier, but a year later he was able to purchase the rival paper.
After 57 years of publishing in Stafford, Briles sold the Courier a few months before his death in 1972.
Aside from newspaper work, he also served as mayor of Stafford and was a member of the Kansas legislature for 14 years.
---