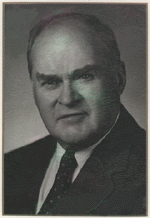 Fred Brinkerhoff was born in 1885 in Franklin County. After attending Ottawa University and the University of Kansas, he served a short stint as a reporter for the Kansas City Star.
He became editor of the Pittsburg Headlight in 1911, and was named editor of the Morning Sun sixteen years later. He was a Pittsburg editor for 55 years, during which time he became one of the state's best-known citizens.
During his career, it is estimated that Brinkerhoff wrote nearly 100 editorials a month and had a hand in training about 500 aspiring young journalists.
Brinkerhoff was a past president of the William Allen White Foundation, and in 1956 he received the Foundation's award for journalistic merit.
When Brinkerhoff died in August, 1966, at age 81, a rule was suspended allowing him to be inducted to the Kansas Newspaper Hall of Fame immediately, rather than waiting the mandatory three years. That had only happened one other time, when William Allen White was inducted in 1944.
---