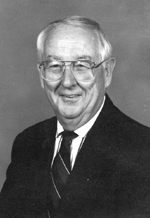 Kenneth C. Bronson spent 39 years with Stauffer Communications Inc. in Topeka where he started as a sports writer in 1952 and later became state editor and news editor. After his marriage to Edith MacArthur in 1959, they purchased a weekly newspaper in Pierce City, Mo., and built it into an award-winner in one year.
He rejoined Stauffer in 1962 as editor of the Independence (Mo.) Examiner. Stauffer Communications transferred Bronson to Pittsburg in 1966 where he became editor and publisher of the Pittsburg Headlight and the Pittsburg Sun. He merged the two newspapers in the fall of 1966 as The Headlight-Sun, a seven-day morning newspaper.
Technologically, he installed the first small newspaper newsroom computer system west of the Mississippi, was a pioneer in computerizing the business operation, built a new building and installed a new press in 1973.
Oscar Stauffer, founder of Stauffer Publications, later to become known as Stauffer Communications, asked Bronson in 1976 to oversee Stauffer newspapers as vice president. Bronson moved to Topeka in 1977 and later was given the title of senior vice president. He was responsible for a division that grew from 12 newspapers to 22 newspaper plants, producing more than 30 newspaper and shopper products.
Bronson started Stauffer Media Systems in 1976 after designing and implementing business computers at Pittsburg. He built the company into a leading vendor of newspaper software products, including the Stauffer Gold Electronic Library and Stauffer Audiotext Systems. The company also operated four retail computer stores and marketed newsroom and business systems to newspapers.
When Stauffer Communications was preparing to sell the company in 1993, Bronson moved to Indiana when an old friend, John Nixon, called and asked him to be chief operating officer for Nixon Newspapers. He retired from that position on June 30, 1997, and since has been traveling around the nation sharing his expertise with newspapers of all sizes and with newspaper associations. He also served as interim executive director of Kansas Press Association from October to December 2000.
Bronson was president of KPA in 1975-76 and of the Inland Press Association in 1992. He also has been president of the Kansas-Missouri Associated Press editors and publishers, chairman of the Inland Group Executives Seminar, a director of the Mid-America Press Institute in St. Louis and a trustee of the William Allen White Foundation. After he joined Nixon, he became a director of the PAGE national newspaper cooperative.
He has given more than 200 seminars and workshops for state and regional newspaper associations, spoken at the American Newspaper Publishers Association's national conventions, at the National Newspaper Association national convention multiple times, at National Newspaper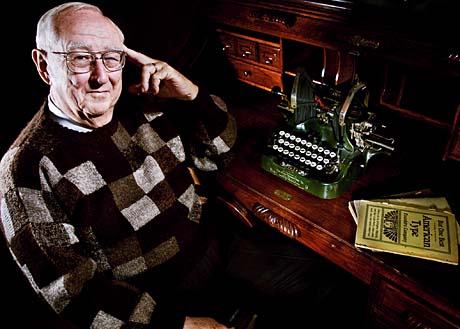 Foundation seminars and at many Inland Press Association and state press association conventions. He also has been a speaker at judicial conferences, both on the state and national level.
Bronson has served on the board of directors of the American Judicature Society and as a director of the Christian Board of Publications. He twice has been president of local Rotary clubs and is a Paul Harris Rotary Fellow. He was president of two chambers of commerce and was on the board of the Kansas State Chamber of Commerce. He has been on the boards of a community college, two hospitals, a public library, United Way, a Boys Club, Junior Achievement and his church where he is an elder on the local level and an officer on the regional level. During his 19-year stint as one of two nonlawyers on the Kansas Commission for Judicial Qualifications, the Supreme Court of Kansas awarded him its first-ever Kansas Justice Award in 1989 "for distinguished contributions to the improvement of justice in Kansas." He was the first nonlawyer and nonjudge ever to chair the commission and spoke at many state and national judicial meetings.
A native of Kensington, a small farming community in north-central Kansas, Bronson attended the University of Kansas and graduated from Washburn University in Topeka after a tour of duty in the U.S. Navy. He served on the USS Boxer aircraft carrier, where he published a weekly newspaper and was editor and publisher of a history book of the ship. The latter effort involved working with a Japanese printing company and earned him a commendation from the ship's captain. Bronson was elected to the Kensington High School Hall of Fame in 1971.
Ken and Edith traveled extensively on Inland Press Study Missions, which involved meeting with government officials, press associations and newspaper editors. Their trips included: Albania, Andorra, Argentina, Australia, Botswana, Brazil, Bulgaria, Chile, China, Costa Rica, Denmark, Ecuador, England, France, Greece, Hong Kong, Hungary, Italy, Kenya, Monaco, Norway, Peru, Romania, San Marino, South Africa, Spain, Sweden, Switzerland, Taiwan, Turkey, Venezuela, Yugoslavia and Zimbabwe.
Bronson died in November 2010 after a more than three-year battle with complications from Alzheimer's Disease.
---