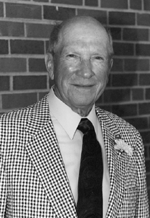 Kenneth Baird "Bud" Bruce was born in 1914 in Marquette to a newspaper family. His father worked for newspapers in Lindsborg and McPherson before becoming publisher of the Hunter Herald and Hunter postmaster. In 1927, the Bruce family bought the Marquette Tribune where Bud began learning how to pour pigs and run a Linotype.
He graduated from Marquette High School in 1932 and continued his education at Bethany College in Lindsborg, where he studied social sciences and lettered in football, basketball and tennis. After graduating from Bethany in 1936, Bud coached and taught at Agenda, LeRoy and Lawrence high schools.
On June 28, 1941, he married his college sweetheart, Marcella Martin of Clovia, N.M. The couple lived in Lawrence until February 1942 when Bud entered the Navy.
He served in the Pacific as the executive officer aboard LST 222 during invasions in the Marshall Islands, Saipan, Tinian and Peleliu, and was awarded a commendation from Adm. Chester Nimitz during a special ceremony in Norfolk, Va. Bud returned to Kansas with his wife and son after being discharged in September 1945.
In July 1946, shortly before his father died, Bud bought the Marquette Tribune. He and Marcella leased the paper in 1953 when Bud accepted a position as news editor of the Lindsborg News-Record. He resigned in the summer of 1954 to buy the Hillsboro Star-Journal, which he and Marcella owned for 34 years. The Bruces retired in 1977 and oversaw Star-Journal operations through six general managers before selling the newspaper to Scott and Stacy Brady in 1988.
Bud was active in the Hillsboro community as president of the Marion County Fair Association, Hillsboro Board of Education, Chamber of Commerce, Kiwanis Club and Hillsboro Development Corporation.
He was president of Kansas Press Association in 1966 and received the association's Boyd Award for Community Service in 1976. He was longtime chairman of KPA's golf committee, which coordinated the association's annual golf scramble and tournament. In 2002, the tournament was named in Bud's honor.
Bud served as a trustee of the William Allen White Foundation, and on the board of directors of the Kansas School Board Association and Kansas Blue Cross-Blue Shield.
On the political scene, Bud served as Marion County Republican Chairman and as Fouth District Republican Chairman. He was a delegate to the National GOP Convention in 1968 in Miami, Fla.
He was twice honored by his alma mater, as recipient of the Bethany College Alumni Award of Merit for Distinguished Service in 1985 and as an inductee into the Bethany College Athletic Hall of Fame in 1990. In 1993, Bud was elected to the Kansas Fair Association's Hall of Fame for his 39 years of service with the Marion County Fair Association.
At age 84, Bud suffered a massive stroke on May 20, 1998, and died two days later.
---