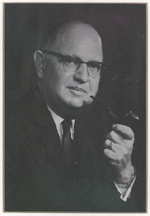 In 1950, after spending his early career in public relations for several large oil companies, John Chandler was looking for a town in which to raise his family and run a newspaper.
Liking what he saw of Holton, he made Recorder publisher Will Beck an offer that was accepted. He became publisher later that year, a position he held until his death on October 16, 1982.
Said Chandler, "I was making very good money then - but owning my own newspaper had always been my dream, and I realized if I didn"t move into that field very soon, I probably would never make the change."
In introducing Chandler, Beck wrote, "I apprehend the new owner will instill much new life and a fresher outlook in the paper, bringing to it...a determination to become established as a permanent member of our community."
Chandler certainly fulfilled Beck's expectations. He was twice elected state senator, and returned home every weekend during those six years to tend to the Recorder.
---