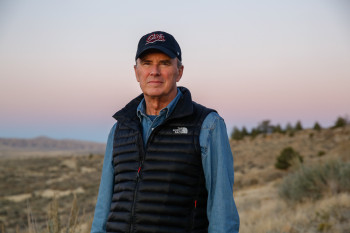 When Chris Johns loaded all his belongs into a rusty 1962 Volkswagen Beetle and headed to Kansas, he had no idea that receiving a photography internship at the Topeka Capital Journal would have such a profound impact on his life.  For a young inexperienced photographer who grew in a small town in Oregon, the opportunity to work with an incredibly talented staff and demanding boss, Rich Clarkson, became the foundation of his career.   Four years after being hired, Johns was named 1979 Newspaper Photographer of the Year by the National Press Photographers' Association.  That same year, he took a leave of absence from the Capital Journal and did his first assignment for National Geographic magazine.  In 1980, Johns went to work for Gary Settle, a Topeka alum, as a staff photographer for the Seattle Times.
Johns currently teaches journalism at Oregon State University (his alma mater) and the University of Montana.  He and Elizabeth, his wife, moved to Missoula, Montana in 2017 as he led the National Geographic Society's Beyond Yellowstone Program – an initiative that promoted wildlife connectivity across Montana, Wyoming and Idaho.  Prior to that, he served as Chief Content Officer, overseeing the expression of National Geographic's editorial content across multiple media platforms. He was the ninth Editor-in-Chief of National Geographic magazine from January 2005 to April 2014. During his editorship Johns' focus on excellence in photography, cartography and reporting was recognized with 23 National Magazine Awards from the American Society of Magazine Editors.  In 2008 Johns was named Magazine Editor of the Year and in 2011 National Geographic was named Magazine of the Year.
Born in southern Oregon's Rogue River Valley, Johns has a long interest in wildlife, conservation, indigenous cultures and ranching.  When he was a National Geographic staff photographer, much of his work focused on conversation issues in North America and Africa – particularly humankind co-existing with apex predators.  I addition to his magazine assignments, Johns' books include "Wild at Heart: Man and Beast in Southern Africa" (Forward by Nelson Mandela, 2002), "Valley of Life: Africa's Great Rift" (Forward by Patrick Hemingway, 1991), "Hawaii's Hidden Treasures" (1993) and "Face to Face With Cheetahs" (a children's book, 2008).
Johns was awarded an honorary doctorate from Indiana University in 2010. He studied photojournalism at the University of Minnesota and holds a bachelor's degree in technical journalism with a minor in agriculture from Oregon State University. 
---