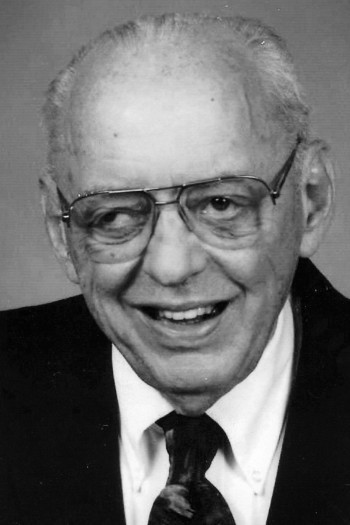 George Henry Clasen II was born Jan. 26, 1916, in Washington, Kan. He was a twin son of George H. and Elizabeth Clasen. After attending grade school and high school in Washington, he attended the University of Kansas where he was a member of the KU Band and served one term as managing editor of the University Daily Kansan.
Mr. Clasen graduated from KU in 1939 with a degree in journalism. While attending KU, and for a few months after graduation, he worked at the Washington County Register. On Oct. 1, 1939, he purchased the Democrat-Leader in Norborne, Mo. That same month - on Oct. 28, 1939 - he married Margaret West in Marysville.
They published the newspaper in Norborne until 1942, when Mr. Clasen enlisted in the United States Army Air Force. After being discharged from the Army in late 1945, the couple lived in Marysville and Washington while Mr. Clasen worked at the Marysville Advocate.
On July 1, 1946, the Clasens purchased the Florence Bulletin. While in Florence, Mr. Clasen was involved in numerous local activities, including serving as a member of the Florence City Council, president of the Florence Board of Education, president of the Chamber of Commerce, commander of the American Legion and member of the Masonic Lodge.
He also served as chairman of the Marion County Republican Party. In 1960, Mr. Clasen served as president of the Kansas Press Association.
The Clasens purchased half interest in Garnett Publishing Company on Oct. 1, 1964, and moved to Garnett. Mr. Clasen served as editor of the Garnett Review and assisted with publication of the Anderson Countian until selling the company in June 1985.
While in Garnett, Mr. Clasen was commander of the American Legion, president of the Garnett Area Chamber of Commerce, president of the Garnett Rotary Club, and chairman of the Anderson County Republican Central Committee. He also was a member of the Garnett Country Club, First United Methodist Church, the Chamber's Ambassadors Committee, Barberhawks, Masonic Lodge and the Contract Bridge Club.
Mr. Clasen served as president of the Kansas Day Club and was an alternate delegate to the Republican National Convention in 1976.
In 1997, the Clasens were Grand Marshals of the Garnett Area Chamber of Commerce Christmas Parade and, in 2001, he was presented with a Community Service Award for his 35 years of service with the Chamber. In October 2000, the Anderson County Republican Party awarded Mr. Clasen with a resolution, signed by Gov. Bill Graves, acknowledging his 60 years of service to the Republican Party of Kansas.
The Clasens have two sons, five grandchildren, 12 great-grandchildren and two great-great-grandchildren.
---