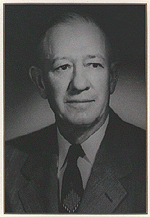 Rolla Clymer, the "sage of the Flint Hills" editor of the El Dorado Times, was born in Alton in 1888. He was a graduate of the College of Emporia and did graduate work at the University of Kansas.
Clymer was one of a number of Kansas editors who once worked for William Allen White on the Emporia Gazette, starting there in 1907. He became editor of the Olathe Register in 1914 and went to El Dorado in 1918 to manage the Daily Republican.
That paper was merged with the Walnut Valley Times in 1919 as the El Dorado Times. Clymer was editor of the Times until his death except for a short time in 1937, when he edited the Santa Fe New Mexican.
He was president of the Kansas Press Association, the Kansas Daily Newspaper Association, the William Allen White Foundation and the Kansas State Historical Society.
Known for the power and vigor of his language, Clymer received the William Allen White Foundation Award for Journalistic Merit in 1957. He died in 1977.
---