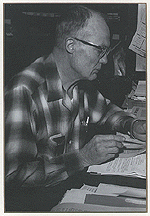 Clelland Cole, known across Kansas as a sportsman, naturalist, and outdoors writer, was born June 25, 1904, in Winchester. After graduating from the University of Kansas in 1929, he began working on the Stafford Courier. He moved to St. John in 1943 and bought the News.
Cole served 30 years as editor and publisher of the News, retiring in 1973. He filled his time writing his weekly "Outdoors in Kansas" column and working as a guide for the Great Bear Lodge in Canada.
Cole was a member of the Outdoor Writers of America and was active in Ducks Unlimited. He was instrumental in the formation of the Outdoor Writers of Kansas.
He was named Conservation Communicator of the Year in 1978 by the National Wildlife Foundation and the Kansas Wildlife Foundation.
Cole was a member of the alumni development committee at KU, the First United Methodist Church in St. John, and the Masonic Lodge.
He died April 16, 1980, at age 75.
---