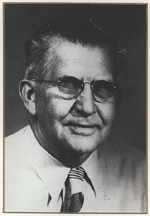 Born July 23, 1885, in a 'sod dugout" in southwest Reno county, Earl Fickertt earned fifty cents a week working for the Sylvia Sun as a teenager. He attended a Presbyterian college in Oklahoma, then returned to the Sylvia paper as printer and assistant publisher.
From there he went to the Stafford County Republican, Lewis Press, Montezuma Press, and Nickerson Argosy. In 1924, he became editor and publisher of the Peabody Gazette-Herald, and remained in that capacity until his retirement in 1949.
Fickertt was president of the Kansas Press Association and was secretary of the Southwest Kansas Editorial Association for more than a quarter-century.
The Minneapolis Messenger once wrote that it knew of " no other newspaper man who through the years did more to help make the Kansas Press Association the effective representation of Kansas newspapers that it now is."
---