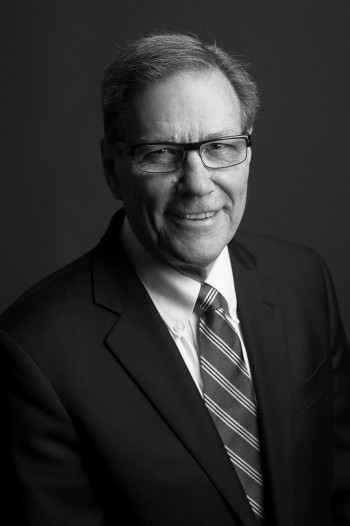 Ralph D. Gage Jr. enjoyed a long and illustrious career in journalism, with most of those years in leadership roles at the Lawrence Journal-World and its parent, The World Company.
Ralph was born in Ottawa and graduated from Ottawa High School in 1959, where he was inducted into the OHS Wall of Honor in 2006. He is a 1964 graduate of the University of Kansas School of Journalism with an emphasis in news-editorial.
After serving as area editor and then Sunday editor at The Salina Journal between 1964 to 1967, he served more than two years at The Metro-East Journal in East St. Louis.
He was a reporter, managing editor and assistant to the publisher at the Journal-World from 1969 through the 1970s before being promoted to additional responsibilities. He was named general manager for the newspaper and The World Company in 1981 and served in that capacity through 2004.
From 2005 to 2009, he was chief operating officer for The World Company. In addition to managing the company's flagship newspaper, the Lawrence Journal-World, his responsibilities involved the company's contract printing of USA TODAY and other products and oversight of the company's cable television, telephone, Internet, weekly newspapers, magazine, software and other operations.
When he retired at the end of July 2013, he carried the title of director of special projects for The World Company. At that time, he was secretary-treasurer of WorldWest Limited Liability Company, a related business that publishes semi-weeklies and small daily newspapers in Colorado and Arizona, and manager of Orbiter LLC, yet another related company that dealt with The World Company's ventures in other fields. He also was at one time part-owner of WorldWest, but surrendered his shares prior to retirement.
He is a trustee of Presbyterian Manors of Mid-America, trustee of the William Allen White Foundation, a member of the board of directors of the News-Gazette Company in Champaign, Ill., and a member of the board of directors of The World Company.
He has served as a mentor at the Dole Institute of Politics, participates in classes and activities of the Osher Lifelong Learning Institute at KU, served on the Consumer Outreach Committee for former Insurance Commission Sandra Praeger to help prepare Kansas for implementation of the Affordable Care Act and was a member of the Newspaper Association of America's Research Federation and Council.
He has spoken at numerous professional gatherings and at universities across the nation about The World Company's pioneering work in convergence and the introduction of digital strategies into traditional print operations. The New York Times, in writing about the company in 2005, called him "a no-nonsense taskmaster . . . deputized to make sure the company's trains run on time."
Through the years, he was active with the Lawrence Chamber of Commerce, serving as director, vice president and committee chair. He also served the Kansas-Lower Republican River Basin Advisory Committee, USD 497 Steering Committee and Technical Committee, Lawrence United Fund president and board member, president of the Boys Club of Lawrence, Kansas Associated Press News Council and Lawrence Traffic Safety Commission. He is a 1982 graduate of Leadership Kansas.
In 2009, he received the Gaston Outstanding Mentor Award from the Kansas Press Association.
He has been active in his church, First Baptist Church, and served in a number of capacities through the years. He and his wife, Dr. Martha S. Gage, were co-directors of the church's building fund drive in 1998. Martha retired as director of Teacher Education and Licensure for the Kansas State Department of Education.
Their daughter, Susan Gage, is assistant director for stakeholder communications at Cambia Health Solutions in Portland, Ore. She is married to Jerry Sass Jr. and they have two children, Sam and Abigail. Their son, Paul, is chief of staff for U.S. Rep. Kurt Schrader, D-Ore.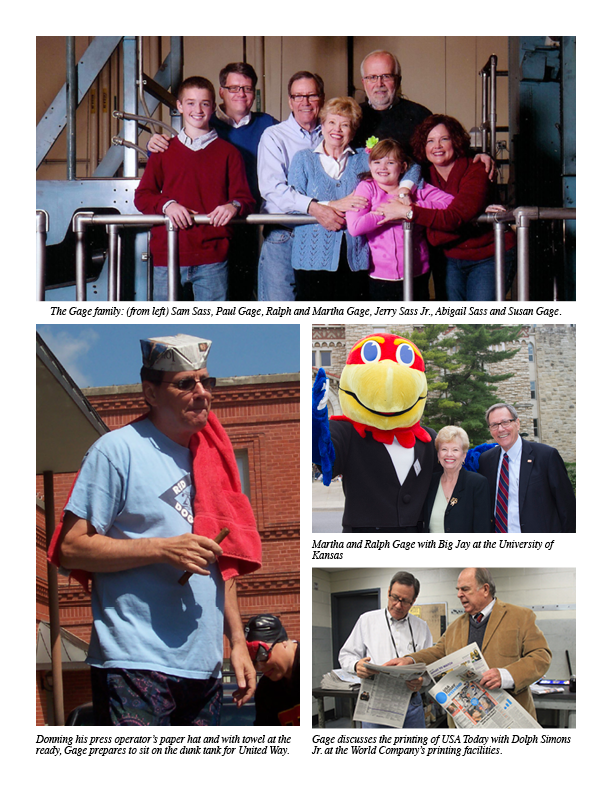 ---