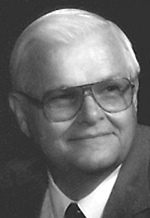 Karl K. Gaston was born July 6, 1929, in Corning, Kansas. After serving in the U.S. Army during the Korean War and graduating from Kansas State University, Gaston began his newspaper career. He served as publisher the Sterling Bulletin, Holyrood Gazette, Bushton News, Rice County Monitor-Journal, Haven Journal, Mount Hope Clarion, Cawker City Ledger, Belleville Telescope and the Hebron (Neb.) Journal Register.
Gaston spent the last 33 years of his life as editor and publisher of the Ellsworth Reporter, The Wilson World and The Marquette Tribune.
He belonged to the First United Methodist Church in Ellsworth where he taught Sunday school. He was a former mayor and city councilman in Ellsworth, a past president of Kansas Press Association, and a past president of the South Central Kansas Economic Development Association.
Gaston and his wife, Dorothy, were killed Oct. 22, 1998, in a automobile accident in Greensboro, N.C.
---