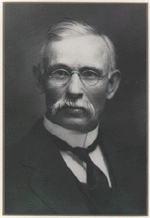 John S. Gilmore, a native of Rochester, N.Y., entered the office of the Emporia News as an apprentice at the age of 17.
Within four years he had saved $600 from his wages and from investments in cattle, and he started the Guilford Citizen.
Six months later, having decided the town was not destined to grow, he moved to Neodesha.
Two years later he suspended that paper and bought the Fredonia Journal. He then discontinued the Journal and revived the Wilson County Citizen, which he published until his death in 1913.
---