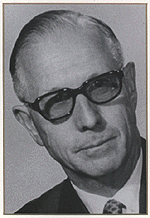 Byron Guise graduated from Baker University and worked at the Marshall County News for more than 20 years before purchasing the Marysville Advocate in 1946.
In 1973, he was honored by the William Allen White Foundation as Kansas Editor of the Year.
In addition to his newspaper work, he was state president of the Highway 36 Association and served as a director of the Marysville Pony Express Museum Association, People's Savings and Loan Association, and the Chamber of Commerce. He was also active in soil conservation work.
Said Guise, "All of us cannot be the same type of editor. We should strive in our own way to be different. Like the pioneer editors of their time, it would be better for all of us to forget whether or not what we do will be popular, but rather take the proper course in our editorial news. Then let the sonic boom shatter what it may."
---