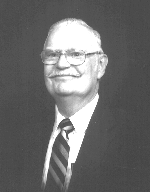 In remarks made for his 50th class reunion, Bill Hemenway stated the only time he really got away from Minneapolis was when Uncle Sam sent his well-known "Greetings" during his senior year in high school.
Bill joined the U.S. Army in July 1944 and traveled to Europe on the Queen Mary to serve in the European Theater. He was wounded in action on March 21, 1945 near Germany and was awarded the Purple Heart.
Following his recovery in 1946, Bill began his freshman year at the University of Kansas. He graduated in 1950 from the William Allen White School of Journalism.
In 1950, he began working for his father at the Minneapolis Messenger. In 1972, he purchased the Messenger, and continued as editor until his retirement in 1990.
Bill also served as mayor and councilman for the City of Minneapolis. He died July 29, 1995.
---