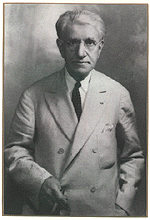 Ewing Herbert was born in New Salem, Pa., in 1866 and came to Haiwatha with his parents in 1870. He was the youngest of eight children and had seven older sisters, all of whom were teachers for a time during their lives.
He went to work as a "printer's devil" on the Brown County World at age 12. He acquired the weekly paper in 1885, although the purchase was not announced until two years later when he reached 21 years of age.
The World continued in publication with Herbert as its editor and on September 12, 1908, a long-standing ambition was realized with the establishment of the Hiawatha Daily World.
A 1968 souvenir edition of the World hailed the 60th anniversary of the paper and said, "This is an asset few towns of Hiawatha's size can boast." The World celebrated its 90th anniversary in 1998.
Herbert died in March, 1947.
---