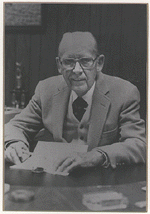 A native of Kentucky, Henry B. Jameson moved to Kansas at an early age. He became publisher of the Abilene Reflector-Chronicle, a paper from which he admitted he was once fired as a "lousy" carrier boy.
Jameson spent 11 years with the Associated Press, including three years in Europe during World War II. He was the first Allied correspondent to be wounded in the D-Day invasion of France.
He returned to Kansas and, after a brief stint at the Lawrence Journal-World, moved back to Abilene and purchased the Chronicle.
Jameson wrote a book about President Dwight Eisenhower, a native of Abeline, which chronicled little-known ancedotes of his rise to the presidency. It was Eisenhower himself who suggested to Jameson that he should write a book.
----------
Here is an article written by Dave Bergmeier on the 70th anniversary of the D-Day invasion, June 6, 2014.
By Dave Bergmeier
The architect of the most extraordinary invasion -- D-Day -- was Five Star Gen. Dwight D. Eisenhower, a man from humble beginnings in Abilene, Kan., and it carried another significant historical thread.

Among the relationships he later nurtured was with a young journalist, Henry P. "Hank" Jameson, who spent about 12 years with The Associated Press. Jameson was the first Allied correspondent to be wounded in the D-Day invasion of France on June 6, 1944. He had worked for the AP in Kansas City, Jefferson City, Mo., St. Louis, Chicago, New  York, Washington and overseas as a World War II correspondent.

According to the AP Inter-Office "Invasion Issue" from June-July 1944, Jameson was accompanying the Ninth Air Force Engineers when they hit a "hot beach." An 88mm shell hit their landing craft, slamming him against an armored car. Suffering a dislocated shoulder and a wrenched leg, he returned to England and brought back "several exclusive stories."

The fledgling journalist became owner of the Abilene Reflector-Chronicle in 1955 and was editor-publisher for many years until his death in October 1986. Many local business friends called him "Hank" as did his many friends from the journalism industry. Those who knew Henry at the newspaper always called him "Mr. Jameson," a beloved figure who was the original "Mr. Abilene."

To loyal readers, his Ramblings column was a front page feature every day of the daily newspaper that he was associated with for more than 30 years. It gave readers a sense of who Jameson was and at times led to many stories that included personal barbs to friends with a dash of self-deprecating humor.

I did not personally know him like my predecessor, Vivien Sadowski, who became his successor after his death. She had the fortune of working for him for 13 years. She had a great appreciation for his writing skills, his charisma, the love of his town and the love of his country.

The two shared commonalities about the belief that fighting the tyranny of Nazism was something that had to be done and victory was the only acceptable outcome. Jameson was out front covering the war, like other journalists who became household names: Walter Cronkite, Ernie Pyle, Andy Rooney and Edward R. Murrow. Jameson and many other AP war correspondents did their duty, keeping those informed on the home front. It had to be tough duty. Sadowski was a teen-ager during World War II. Like many Americans she understood the pain of war. Young men were drafted and enlisted. They were sent overseas in the European and Pacific fronts. In some cases they were family members and friends would not return. On the home front, men, women and children did their duty, too.

People of that era shared a kindred spirit that had an unbreakable link. D-Day remained a personal experience that Jameson carried with him just like the many men who fought valiantly that day and the days that ensued until V-E Day 11 months later in May 1945.

In an anniversary story about the invasion, Jameson wrote: "I have revisited the bloody Omaha Beach area of Normandy several times, never without choking up, shedding a tear and kneeling at the grave of one of my fallen co-workers. I left a little of my own flesh and blood there, too, on the D-Day invasion of Europe in World War II."'

Getting personal accounts about June 6, 1944, are getting harder as these heroes from the Greatest Generation answer their final call.  

Jameson, a friendly man who did not know a stranger, according to Sadowski, captured the fancy of those who knew him, but he also represented what happened to many men and women involved in D-Day and World War II. After the war they settled into their lives.

Those young men became the leaders in their communities. Some returned to their farms. Others returned to the family businesses, Others used the GI Bill, went to college and built careers that seemed impossible when they were fighting on a foreign continent, many miles from their loves ones.

The journalists, like Jameson, carried a wide spectrum of political views and most were known long after the war, but in the true spirit of war coverage, they were unified in their objectivity to "tell the story right" so that another dictator of the evil of Adolph Hitler could never take hold.  The journalists did their part and the folks back home understood the horrific costs of war.  

As we look back to the successful launch to end Nazi tyranny -- 70 years ago -- all of us who still walk this Earth need to have a great reverence to those who did their part, those who made the orders, those who carried them out, those who provided the support, and those who accurately chronicled that day and the remaining days of World War II.

The ever optimistic Jameson was proud of the fact that he was there to see first hand the Allied Forces' invasion. Being from Abilene, Kan., gave the future editor-publisher added importance. He was the second editor and publisher in the history of the Reflector-Chronicle following Charles M. Harger.

Eisenhower never forgot the relationship and Jameson wrote a book about Ike, chronicling little-known anecdotes of his rise to become the nation's 34th president. It was Eisenhower himself who suggested Jameson should write a book.

According to his good friend, the late Bill Jeffcoat, Jameson was very popular in town. Jeffcoat, a photographer who also was a friend of Ike, wrote in remembrance: "As the Eisenhower popularity grew, so did the newspaper and Henry. When out of town media arrived, the first thing they sought out was the editor of the paper. The paper and Henry became the connection for all important events concerning Ike and Abilene. Henry was 'it' during the Eisenhower era, and he basked in the limelight and met a lot of very high-up people in the media and from the White House. He wrote some books on Ike and on early Abilene days. Henry was a great contributor due to his outlook on the town and for the development of the Eisenhower Center."

*****
Dave Bergmeier was associated with the Abilene Reflector-Chronicle for more than 23 years, including 14 years as editor-publisher of the newspaper. He is now managing editor of the High Plains Journal in Dodge City.
 
---