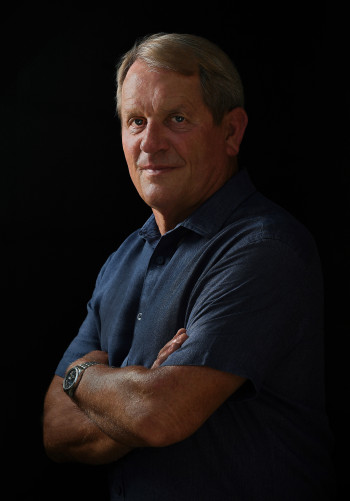 Jeff Jacobsen has photographed practically every big event the sports world has to offer during a professional career that spans over 53 years. Starting at The Topeka Capital-Journal as an 18-year-old in 1969, Jacobsen learned from famed photographer Rich Clarkson. He shared photo duties with the remarkable, award-winning photographers that made the paper renowned for its photographic excellence.
Over the next several decades, Jacobsen developed his style of visual storytelling that has been called "the point where peak action, intense emotion and impeccable journalism cross paths." 
Jacobsen worked for the Arizona Republic newspaper in Phoenix, Arizona, from 1979-1983, covering a wide variety of sports in the Valley of the Sun and throughout the country. 
Jacobsen returned to the Capital-Journal in 1983. He rose to the Managing Editor of Photography position with a run of national acclaim for photography usage. His work has appeared in national and regional magazines throughout his career.
In 1997, Jacobsen began work for Kansa Athletics and became KU's first full-time photographer. He had a front-row seat photographing more high-profile sporting events in a single year than most people attend in their lifetimes.  The 256-page coffee table book, "Tribute to Crimson & the Blue," published in July 2019, highlights his accomplishments at KU.
After retiring from Kansas Athletics in June 2020, Jacobsen began work on a long-term project on the people and events that make sports an integral part of the state of Kansas. Work on "The Heart & Soul of Kansas Sports" is ongoing as he travels to the 105 counties of Kansas.
Jacobsen was born in Lincoln, Nebraska, in April 1951. He move to Kansas in 1954, graduated from Topeka High School in 1969 and Washburn University in December 1976. Jacobsen was named the 2013 Alumni Fellow for the College of Arts and Science at Washburn University.  He was inducted into the Shawnee County Baseball Hall of Fame in 2019 for his work with the Kansas City Royals, including their 1985 World Championship.
Jacobsen's wife Laura is an academic advisor in the Kansas Athletics Department for Swimming & Diving and Rowing. The couple has two married daughters and two grandchildren.
---