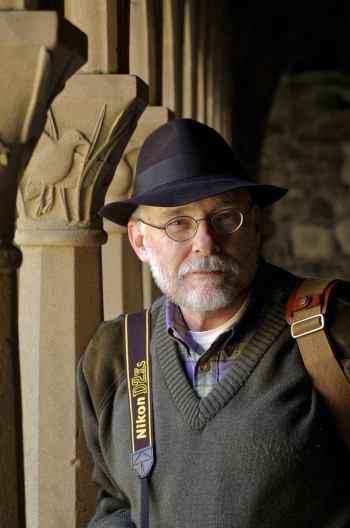 Jim Richardson is a photographer of global issues and landscapes for National Geographic Magazine as well as a documentarian recognized for his explorations of life in rural places. During his 30 year career with National Geographic he has focused on the critical environmental resources issues water, food and agriculture. His coverage of cultures has focused on the Celtic world with special attention to Scotland and its remote islands. His travel photography for National Geographic Traveler (where he is a contributing editor) and National Geographic Expeditions has taken him around the world many times and from pole to pole.  His documentary photography has centered on the American Great Plains and includes his extended coverage of small town life in his native Kansas, his noted devotion to the Tallgrass prairie, and his defense of dark skies and the perils of light pollution.
In addition to photography for the magazine, Richardson represents the National Geographic Society in keynote presentations, media appearances, cultural enrichment lectures for travel groups, and in workshops. His teaching venues include the Santa Fe Workshops, Photography at the Summit (with his longtime mentor Rich Clarkson), and the National Geographic Traveler Seminars (of which he was a founder.)
In Kansas, Richardson is perhaps best known for proposing and photographing a story in Kansas' Tallgrass prairie for the magazine's April 2007 issue.  He also is the 2010 Governor's Artist of the Year and 2009 Kansan of the Year by the Native Sons and Daughters of Kansas.
Other of Richardson's Kansas-oriented projects have gained international acclaim.  He has a 30-plus-year photographic relationship with the people of Cuba, Kansas, population 220.  This unusual body of work has been excerpted in National Geographic, LIFE, and many other publications worldwide.  Richardson and Cuba have been profiled twice by CBS News Sunday Morning, first in 1983 and again in 2004.  The audio-visual production "Reflections from a Wide Spot in the Road" is about his photography in Cuba and other rural Kansas communities, and it toured internationally and won an International Crystal AMI Award.
Richardson began documenting rural Kansas life as a photographer for the Topeka Capital-Journal in 1970.  His first project was published in 1979 as the book, High School USA.  This three-year photographic examination of adolescence in Rossville, Kansas, the book is considered a photo documentary classic.
His book The Colorado: A River at Risk, published in 1992, has been recognized widely for its contribution to awareness of water issues in the American West.
Richardson is a spokesman for the power of deep research in photography as well as for the value of life and lessons from remote places.  His work has been profiled by ABC News Nightline in a behind-the-scenes production about the National Geographic editorial process in the field and at magazine headquarters in Washington, D.C.
His speaking engagements on environmental and resource issues include the Aspen Environment Forum, the Long Now Institute, the Farm Foundation, National Geographic LIVE, Noche Zero (on light pollution,) the Chautauqua Institution and many others. His lectures on environmental and cultural photography include National Geographic Masters of Photography, Carnegie Mellon University (on visual communications for scientists), Syracuse University, the International Center for Photography, the Annenberg Space for Photography, the Center for Concerned Photography, among others.
He came to photography as a boyhood hobby which began on his parents' wheat and dairy farm near Belleville in north-central Kansas.  Richardson credits his father, a farmer and trucker driver who was also an enthusiastic amateur photographer for his early interest in photography. (His father purchased cameras at pawn shops along his trucking route.)  His mother, a nurses' aide and manager of the family dairy, allowed her kitchen to be used after supper as a darkroom.
Richardson and his wife Kathy returned to their native state in 1997 after almost 20 years in Denver.  They live in Lindsborg, where they operate Small World Gallery on the town's Main Street.
For more information about Jim Richardson, please see the portfolios and FAQs at www.jimrichardsonphotography.com.
---