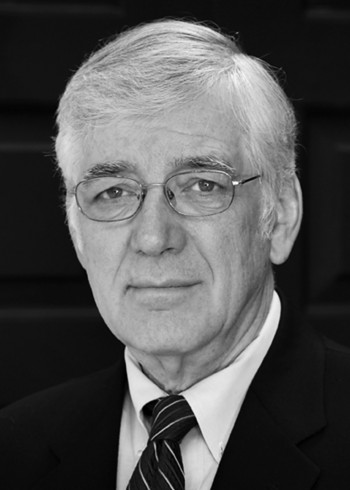 Mike Kautsch has enjoyed a successful career in journalism and media law, having served as a newspaper reporter, journalism professor, journalism school dean and now as a professor of law at the University of Kansas School of Law.
He was born near the end of World War II in Omaha, where his dad was serving as a minister at a small parish in nearby Bellevue.
When Mike was a teenager, the family moved to Iowa, where his dad continued in the parish ministry.  His dad and mom arranged for Mike to attend a church-sponsored high school in St. Paul, Minn., where he received his high school diploma in 1963. He attended a junior college on the same campus, but soon transferred to the University of Iowa in Iowa City, where he majored in journalism and entered the Army Reserve Officer Training Corps.
He married Elaine Kautsch and, after receiving his bachelor's degree, he worked as a reporter at the Iowa City Press-Citizen.  He then enrolled in the University of Iowa College of Law. He received his law degree in 1971 and became a licensed member of the Iowa bar. He and Elaine moved to Georgia in 1972 so he could fulfill his ROTC active duty requirement at Ft. Gordon, near Augusta.
The couple grew to like the South, and Mike since had retained his strong interest in journalism, he went to became a reporter for the Atlanta Journal, sister publication to the Constitution, where he worked full-time from 1972 to 1978.
In 1979, he joined the William Allen White School of Journalism as a visiting lecturer and then moved through the ranks to become a full professor.  He served on the journalism faculty until 1997, the final 10 years as dean of the White School.
In 1997, he joined the faculty of the KU School of Law to start a program in media law studies and has since coordinated the program at the school while serving as a professor of law.
His service to the journalism profession is both wide and deep. For KPA, he has served for years as a media law consultant. Whenever KPA has had a need for assistance, Mike has always been there, giving prompt and reasoned advice as KPA and others try to strengthen the state's open government laws.
To inform the public about the importance of open government, he worked for years in tandem with Topeka attorney Mike Merriam to stage the traveling "Mike and Mike Show."
He was instrumental in the drive to establish a reporter's privilege in Kansas, working with state revisors of statutes, legislators, KPA staff and the state's other media associations to pass that law in 2010.
At the William Allen White School of Journalism, he taught courses in news reporting and communications law, taught and advised candidates for a master's degree in journalism.  He received the HOPE award (Honor for the Outstanding Progressive Educator) from the 1984 senior class at KU.
At the KU School of Law, he has taught on a variety of media law topics, including Media and the First Amendment, Copyright Law and Digital Works, Digital Privacy Rights in an Open Society, and led the Media, Law and Technology Certificate program, in which students study media and the law in depth.  
He held a fellowship in residence in 1985-86 at a Gannett Foundation (later Freedom Forum) Media Studies Center at Columbia University in New York.  In 1996, he served as a fellow in a Knight Foundation international press program and conducted a summer media law research project at the University of Costa Rica. He served as a visiting professor at the University of North Carolina School of Law in the fall of 2007, and consulted with the UNC law school administration on development of a media law center there.
And, of course, he is credited with numerous publications and presentations while at both schools on media and law matters.
He is a past board member of the Kansas Humanities Council, where he served two terms, and was a participant in Kansas Judicial Council advisory committee studies on open records and the press shield law.
He is past member of the Association for Education in Journalism and Mass Communications, Cooperative Committee on Journal Education and the William Allen White Foundation.
He has received awards for teaching and advising students from the KU School of Law. In recognition of his contributions to media-bar relations, he received the Outstanding Service Award in 1997 by the Kansas Bar Association.
Mike and Elaine have two children: Max has a private law practice in Lawrence and serves as Legal Hotline Attorney for the Kansas Press Association. Daughter Kristen lives in New York where she directs marketing and communications for the Baryshnikov Arts Center.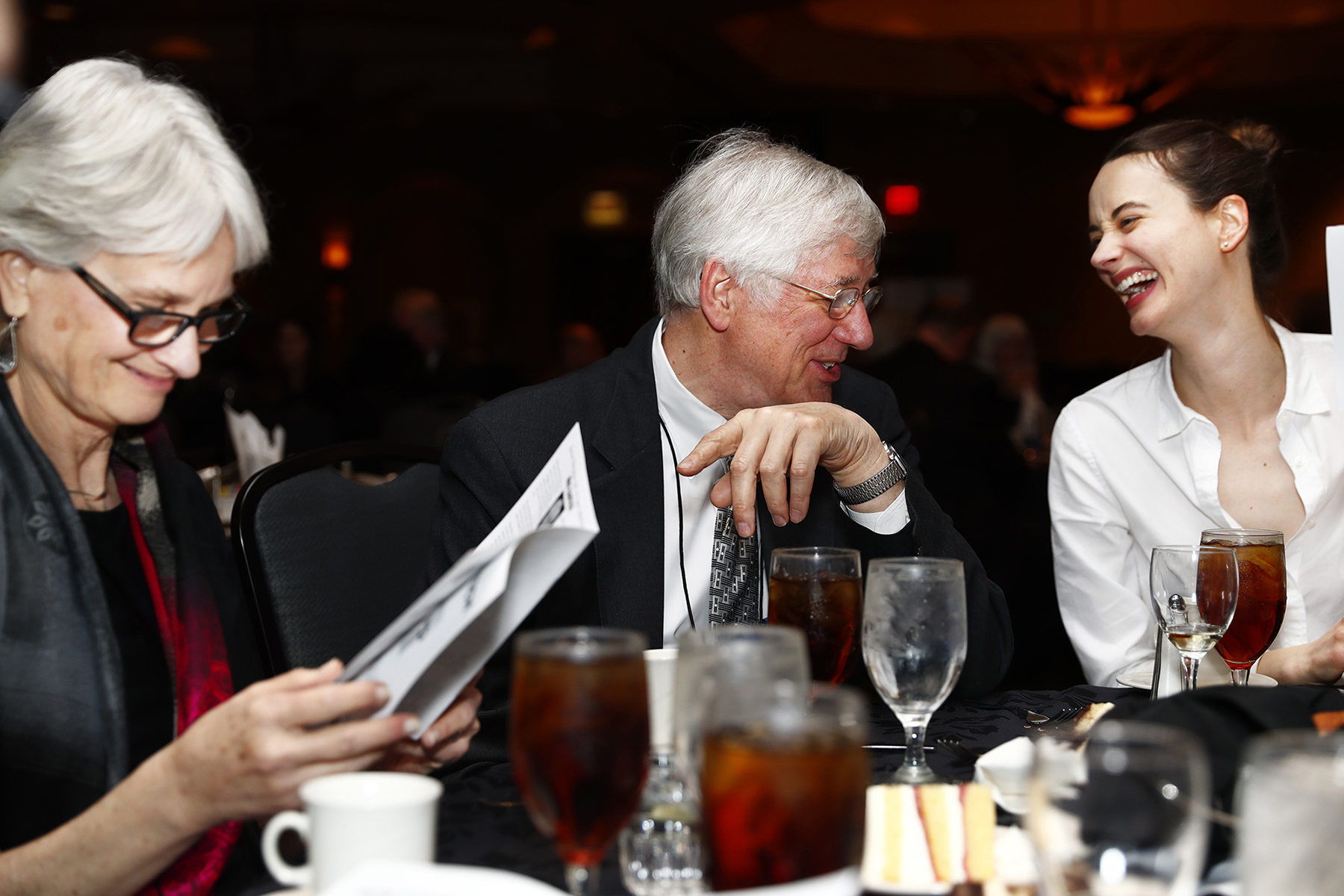 Mike Kautsch and daughter, Kristen Kautsch, enjoy a lighter moment at his induction ceremony on April 7, 2017. At left is Mike's spouse, Elaine Kautsch.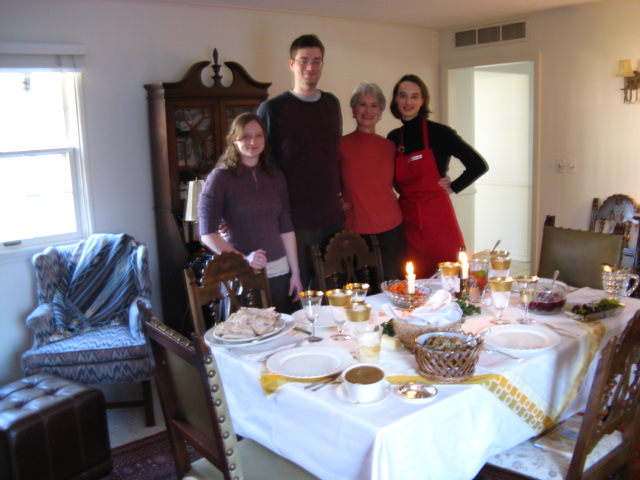 The Kautsch family (minus Mike) include (from left): Sierra and Max Kautsch, Elaine Kautsch and Kristen Kautsch.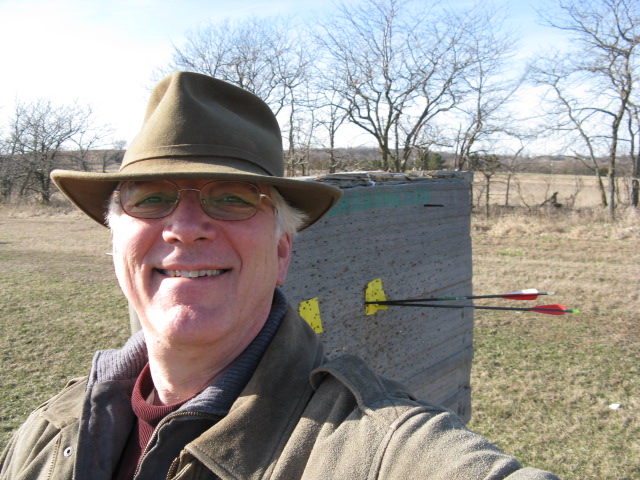 One of Mike's favorite pastimes is target shooting at an archery range.
---