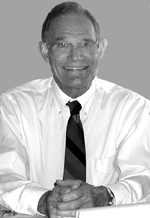 Emerson Lynn, Jr. served as the editor and publisher of the Humboldt Union from 1951-1958; editor and publisher of The Bowie (Texas) News from 1958-65; and editor and publisher The Iola Register from 1965-2001.
The Register was founded in 1867. Emerson's grandfather, Charles F. Scott, bought it as a weekly in 1882 and took it daily in 1896. Charles Scott was publisher until 1938 when he handed it over to his son, Angelo Scott, who sold it to Emerson, his nephew, in 1965. The Register has had only three editor and publishers in 118 years.
In 1950, Emerson married Mickey in Australia where he was a Rotary Fellow at Melbourne University. He graduated from the University of Chicago after serving in the Air Force duringWorld War II. He and Mickey had four children, three of whom are in the newspaper business. Their daughter, Susan, succeeded him as editor and publisher of the Iola Register.
He was honored as the first recipient of the Clyde Reed Master Editor Award and the first recipient of the Karl and Dorothy Gaston Outstanding Mentor award. Emerson was the president of the Kansas Press Association in 1977.
He has been active leader in economic development issues on the local, regional and state levels the past 35 years.
---