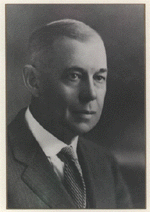 John C. Mack was active manager of the Newton Kansan for 32 years, except for a term as postmaster in Newton and a term in the Kansas legislature, where he authored the Kansas highway law.
He was born January 2, 1867, in Rising Sun, Indiana. At the age of 12 he was left to care for his mother and two brothers, but still managed to finish high school. He taught for three years in Kentucky before moving to Newton in the late 1880's, where he continued his teaching.
An avid supporter of the Kansas Press Association, Mack offered to pay the cost of printing the Jayhawker Press out of his own pocket if necessary.
He died January 29, 1930, at age 63.
---