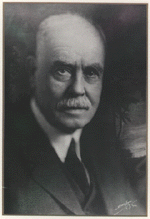 Frank MacLennan was a native of Ohio and came to Emporia at age 15. He graduated from the University of Kansas in 1875, completing a four-year course in just three years, and joined the Emporia News. He later acquired the paper and made it a daily.
MacLennan eventually sold his interest in the News, planning to spend six months in Washington, D.C. as a news correspondent. However, the old Topeka State Journal was offered at a sherriff's sale and MacLennan's bid to buy the paper was successful.
Intensely interested in civic affairs, MacLennan endeavored to make his newspaper entirely free from political alliances. His criticism of a candidate for public office brought a libel suit which the newspaper won, thereby establishing the precedent in Kansas that it is the right, if not the duty, of newspapers to inform their readers as to the qualifications of candidates.
MacLennan died in 1933 at age 78.
---