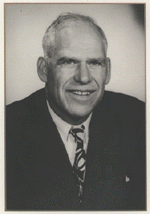 Willard Mayberry began his journalism career with William Allen White's Emporia Gazette while still attending Emporia Teachers College. After graduating, he became a high school English and journalism teacher in Oklahoma.
From there he went to Great Bend as principal of the high school, a position he held until moving to Elkhart to publish the Tri-State News.
Fond of politics, Mayberry was secretary to governor and Republican presidential nominee Alf Landon from 1933 to 1937. Mayberry made his own unsuccessful bid for governor in 1950.
After his defeat, the Topeka Daily Capital suggested that, "He could never be devious, nor a party to political intrigue," and that his integrity might have cost him high office. "But that," said the Capital, "was the way he chose to live."
A former president of the Kansas Editorial Association, Mayberry died in 1959.
---