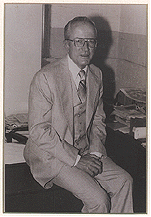 Robert McCants, general manager and co-owner of the Goodland Daily News, was born into a newspaper family. His parents established the Western Kansas News in Goodland in the 1920s and later bought the Sherman County Herald.
McCants and his two brothers purchased the Daily News in 1961, and later added the Sherman County Herald to their holdings.
A long-time active member of the Kansas Press Association, McCants served as president in 1979-80. He founded the Kansas Newspaper Foundation and helped implement a full-time lobbyist for the industry.
He was past president of the Goodland Rotary Club, Goodland Area Chamber of Commerce, and the Sugar Hills Golf Club, and was chairman of the local library board for several years.
A veteran of World War II, he served in the U.S. Navy on a floating dry dock in the South Pacific, navigating from Australia to the Phillipines.
McCants died on December 4, 1984, at age 59.
---