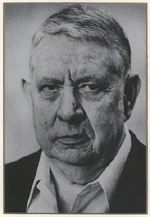 Drew McLaughlin, Jr., was born in Hiawatha on November 5, 1916. He graduated from Paola High School in 1934 and the University of Kansas in 1938.
He joined the staff of the Miami Republican, owned by his father Drew, Sr., the following month. He served in the Navy during World War II and the Korean War and was editor of the Navy Newsletter in Washington, D.C., from 1950 to 1952.
McLaughlin rejoined the staff of the Republican in 1952 and in 1956 helped arrange the merger with theWestern Spirit. He was named president of the newly formed Miami County Publishing Company in 1957, and held that position for 25 years.
Known for his "Around the Square" column in The Republican, he also began writing the "Notes and Comments" column in the two Paola newspapers following his father's death in 1967.
McLaughlin was president of the William Allen White Foundation for several years. He died May 25, 1982, at age 65.
---