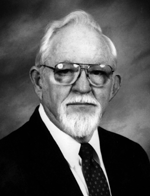 Bill Meyer dedicated the greater part of his life to the Kansas newspaper industry and the communities his weeklies newspapers served.
His mother, Ruth, was a newspaper reporter for the El Dorado Times and William Allen White's Emporia Gazette.
After graduating from the University of Kansas with a bachelor's degree in journalism in 1948, Bill went to work as news editor of the Marion County Record. He became editor and publisher of the weekly in 1967.
Though he retired from day-to-day operations in 2003, Bill continued to serve as publisher emeritus and as president of Hoch Publishing Company Inc., which owns the Record, the Hillsboro Star-Journal and the Peabody Gazette-Bulletin, until his death in 2006.
Bill served as editor for the 99th Infantry Division Association veterans group from 1977 until his death. He was president of the 99th Infantry Division Association in 1998-99, and is a lifetime member and permanent board member.
Bill was a lecturer in media law at Wichita State University in 1985 and a political interviewer for KPTS-TV (Wichita) from 1983-91. He is past president of the Marion Board of Education; past president of the Marion County Hospital District Board of Directors; past president of the Marion Manor Nursing Home; board member of the Kansas State Historical Society; former board member of the Marion Chamber of Commerce; board member of the Kansas Newspaper Foundation, former board member of the Marion Country Club; trustee and past president of the William Allen White Foundation; lifetime member of KU Alumni Association; a member of Central National Bank Board of Directors; and lifetime member and past president of the Marion Kiwanis.
Throughout his career, Bill was an active member and leader of the Kansas Press Association. He served on the board as weekly membership chairman, legislative chairman and as president in 1982-83. He served on the Kansas Newspaper Foundation Board of Trustees and as an honorary chair of the Foundation's campaign. He earned each of the association's special awards — the Boyd Community Service Award in 1979; Clyde M. Reed Jr. Master Editor Award in 1998 and the Gaston Outstanding Mentor Award in 2000. Bill has also received the coveted Eugene Cervi Award from the International Society of Weekly Newspaper Editors.
His wife Joan and their son, Eric Meyer, continue as owners and officers of Hoch Publishing Co. Eric is an associate professor of journalism at the University of Illinois and managing partner of NewsLink Associates. They had one grandson, Nate.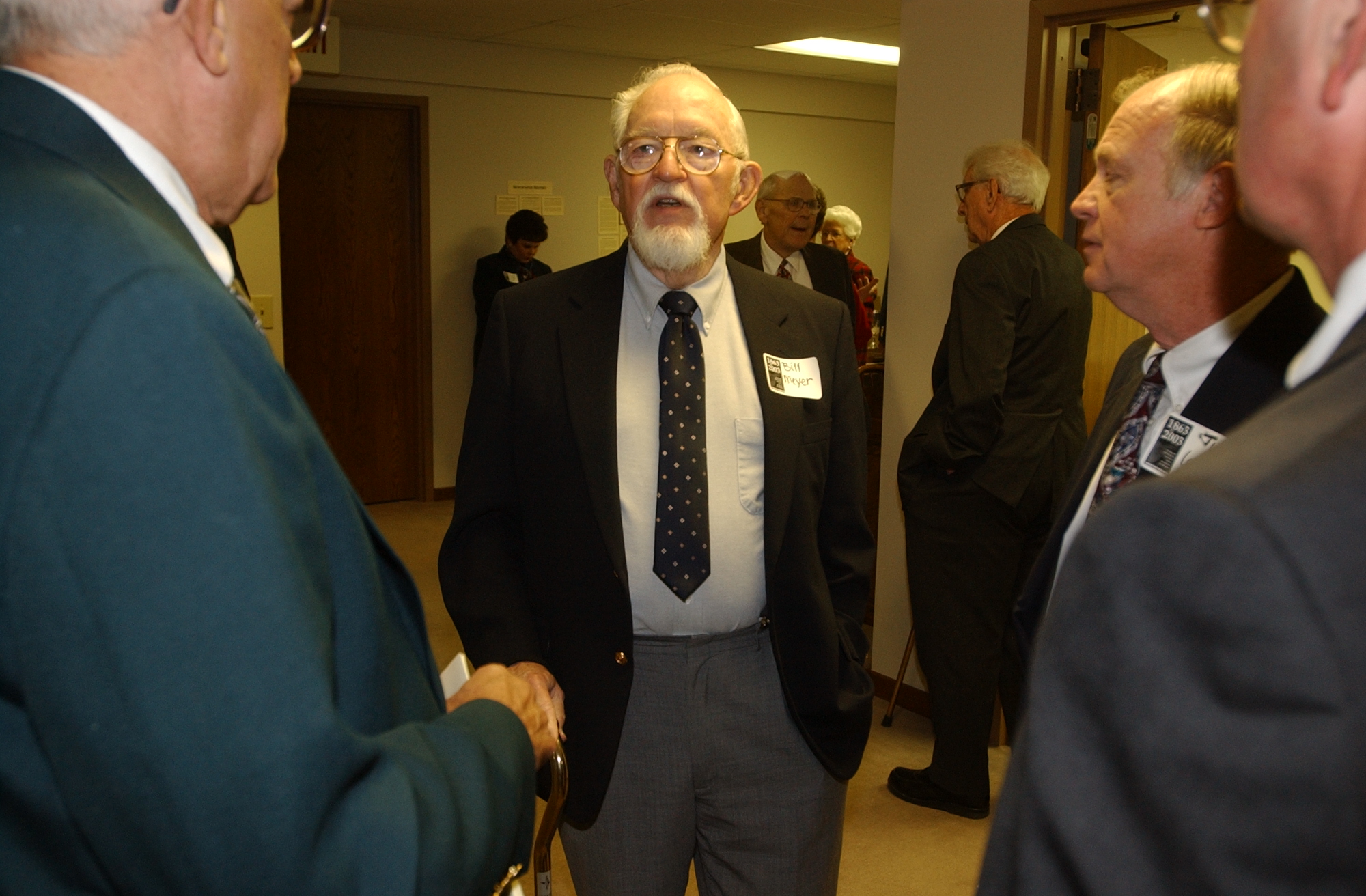 Bill Meyer, center, is shown talking to Dick Clasen (left), and (at right) Jim Logback and Doug Anstaett at the Kansas Press Association's 140th anniversary celebration in Topeka in 2003. In the background are Web Hawkins and Don McNeal.
---