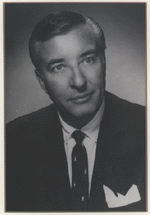 Herbert "Hub" Meyer, Jr., was born in Staunton, Virginia, on September 15, 1912. A few years later, his family moved to Independence.
In 1940, Meyer's father persuaded Oscar Stauffer to sell him the Independence Reporter. The younger Meyer, having graduated from the University of Kansas in 1936, took over as ad manager of the paper.
With his father's election to Congress in 1946, Meyer's duties were expanded. He took over as editor and publisher of the Reporter following his father's death in 1950.
Meyer was president of the KU Alumni Association, and, adamant Jayhawk football fan that he was, held two seats on the 50-yard line for 25 years. He was the recipient of the William Allen White Foundation Award for Journalistic Merit in 1969.
---