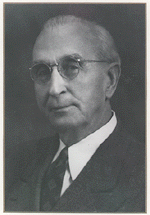 A.Q. Miller was born in 1874 on a farm near Peat's Creek. He went to work at the Clifton News as a boy and bought the newspaper in 1895.
In 1900 he purchased an interest in the Victor (Colorado) Record, and four years later he returned to Belleville and bought the Telescope. He wrote his last editorial for that newspaper on the day of his death, December 29, 1959.
Miller was named chairman of the Kansas State Board of Corrections in 1910, and in 1930 he was appointed executive clerk of the U.S. Senate. In 1934, President Franklin Roosevelt appointed him to the Public Works Administration advisory committee for Kansas.
He is noted for his early vision regarding the automobile era and his resulting leadership in highway development.
Miller, who served as president of the Kansas Editorial Association in 1940, is the namesake of the School of Journalism and Mass Communications at Kansas State University.
---