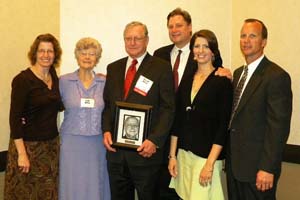 Darrel Miller, former publisher of the Smith County Pioneer, Lebanan Times, Cawker City Ledger and Downs News, was born May 21, 1930 in rural Smith County.
He attended a rural grade school and was co-captain of the football and basketball teams when he attended Lebanon High School. Oh, and he was editor of the school newspaper, the Lebanonian.
After high school, he worked as a printer and writer at the Downs News, then owned by Dan and Grace McKay.
He was drafted into the U.S. Army, and served from 1951 to 1953. Although he took combat training, he was assigned to the staff of the armed services" daily newspaper, The Stars and Stripes, in Darmstadt, Germany.
After his military service, he enrolled at Kansas State University under the G.I. Bill of Rights and studied journalism. He worked on the staff of the Kansas State Collegian as a reporter, feature editor, sports editor, copy editor, assistant editor and editor. During his semester as Collegian editor, the newspaper received an All-American rating.
He worked a summer for the Osage City Journal-Free Press and another summer on the editing desk at the Topeka Capital-Journal.
His early career took him to the Hutchinson News, but then got an opportunity to enroll in graduate school at Michigan State University. He left MSU before earning his master's degree because of the death of Dan McKay. Mrs. McKay offered to sell him the newspaper, and he jumped at the chance.
He operated the Downs News together with his wife , Ruth from 1958 to 1968 and bought the Lebanon Times, his hometown newspaper, in 1967.
From 1968 to 1972, he leased both newspapers to another newspaperman while he joined the Oklahoma State University news bureau and also started a publication called Agriculture at OSU for the College of Agriculture. At the same time, he and Ruth also operated the nearby Perkins Journal, with Ruth working the day shift and Darrel working evenings and weekends. The Journal won the sweepstakes award as the best newspaper in its circulation class.
They returned to Downs in 1972 and added the Smith County Pioneer in 1973, which he edited and published for the next 34 years while Ruth edited the other newspapers. They also bought the Cawker City Ledger in 1979.
He served on the board of KPA while Tom Buchanan was president and later rejoined the board as Northwest District Director. He served as KPA president in 2002-03 and received the Clyde M. Reed Jr. Master Editor Award in 2004.
He has written and published five books and is currently completing a book at the Kansas newspapers that were destroyed by mobs during the Bleeding Kansas and Civil War period.
In addition, he and Ruth were inducted into the Osborne County Hall of Fame in 2005. Ruth died in 2013.
Darrel died July 24, 2017.
---