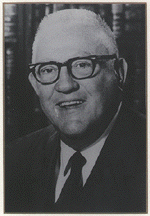 John D. Montgomery, board chairman of Montgomery Publications and longtime Kansas political leader, got his start in the newspaper business in 1926 when he founded the Miami Riveria in Coral Gables, Florida, and the Miami Beach Tropics.
He became co-publisher of the Junction City Daily Union with his father in 1953. The family's newspaper roots in the town dated back to 1888 with the Republican and the Smoky Hill.
Twice an unsuccessful Democratic candidate for Congress, Montgomery served in several state government positions. He was state highway director from 1967-71.
He was chairman of the Kansas Democratic Committee from 1960 to 1962.
Montgomery died October 15, 1985, in Junction City.
---