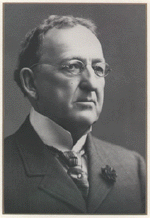 Thomas Benton "Bent" Murdock, brother of Wichita Eagle founder Marsh Murdock, was born in Morgantown, West Virginia, in 1841. When he was 15, his family moved to Kansas and settled in Lyon County.
In 1861, he enlisted in the Union army and fought until the close of the Civil War. In 1870, he started the Walnut Valley Times in El Dorado. After a brief stint in Topeka, he returned to El Dorado in 1885 and established the Republican.
A staunch Republican, Murdock was twice elected to the state senate, and was appointed state game and fish warden due to his love of the outdoors. He died in November 1909 at age 68.
At the time of his death, the Topeka Journal said that Murdock "was perhaps quoted more widely than any other Kansas country editor. He was a forceful writer, but not a hard worker. He lived as he went. He would knock off an editorial any day to go bass fishing in the Walnut River."
---