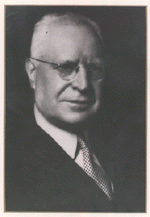 The son of famous Kansas publisher Marshall Murdock, Vic Murdock achieved prominence on his father's Wichita Eagle at a young age. After making a name for himself as a reporter in Chicago, he returned to the Eagle as managing editor at age 23.
In 1903, Murdock was elected to the U.S. Congress. In 1914, he resigned his seat in the house and ran for the senate on Teddy Roosevelt's "Bull Moose" ticket.
His defeat marked the virtual end of his political career, although he was appointed by President Woodrow Wilson to the trade commission and served several years in Washington.
After leaving office, Murdock returned to Wichita, where he served as editor-in-chief of the Eagle until his death on July 8, 1945, at age 74.
Said Fred Brinkerhoff: "Murdock in his youth was a dashing, dynamic individual. He might easily have remained in the political wars throughout his life. But he was content to have his political career compressed into a decade and a half and return to journalism."
---