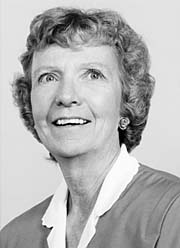 The late Vivien Sadowski's family and her successor as publisher were on hand when she was named to the Kansas Newspaper Hall of Fame in 2008.
Vivien Sadowski was editor and publisher of the Abilene Reflector-Chronicle from October 1986 to October 1998, but her service to the newspaper actually spanned 29 years.
She worked at the newspaper for a quarter-century, then served another four years as a consultant and mentor.
She not only was a leader at the Reflector-Chronicle; she provided tremendous leadership to the community as well. She served on the Abilene Convention and Visitors Bureau advisory board and Abilene Economic Development Council. She was named the Abilene Area Chamber of Commerce's Distinguished Citizen of the Year. She was recognized nationally for her work in tourism. She launched Abilene's Vacation Fun Guide, a Reflector-Chronicle product that was believed to be the first one in the state when it was launched in 1981.
Vivien broke through many barriers during her life, not the least of which was her distinction of being the first woman elected president of the Kansas Press Association in 1994. She was very proud of her association with KPA and made life-long friends with fellow editors and publishers, many of whom she would call upon for advice. Many of the editors and publishers here today can recall she was also candid when she was called upon for her thoughts.
She also served as president of the Missouri-Kansas Associated Press group of editors and publishers.
Vivien received numerous awards from the National Federation of Press Women and its state affiliate, Kansas Press Women. She received numerous national and state accolades for her commitment to journalism. She received the National Communicator of Achievement Award. She enjoyed sharing the spotlight with her family and fellow members of the Abilene Reflector-Chronicle.
One of her greatest joys was to see young professionals grow and mature and step up to the plate when called upon.
She was well-grounded in her faith. She enjoyed a close relationship with members of the Alida-Upland Cooperative Parish in northeast Dickinson County, family and friends. Vivien had a large extended family -- one that continues to evolve and carry on her values and common principles.
Vivien died in November 2004 in Wichita at the age of 74 after courageously fighting cancer with the spirit with which she lived life -- not leaving anything on the table.
After surgery in late August 2004, she found out she could not attend a National Federation of Press Women annual meeting; she vowed that she would make it back in 2005.
Although, she did not live to see it through, there was no doubt that at the 2005 fall conference and 2006 fall conference, her presence could be felt. The 2006 conference set an attendance record, which would no doubt bring a smile to her face.
Her husband, Harold, died in November 2005 in Wichita, where he had moved following Vivien's death.
They had two daughters,Barbara Blue and Jeannie Tomlinson. The couple lost a son, Joe, in 1990.
---